About Us
The Garden Courte Memory Care Community is full of programs for an exciting, adventurous, social and luxurious lifestyle for you or your loved in the Olympia, Washington area. Our facility provides top-of-the-line amenities and services to accommodate residents' individual lifestyles.
Enhancing you or your loved one's daily experience is a team of staff who knows that each individual is unique. We are proud of our team members, some of whom have been providing committed care to our residents for many years. Each member of our team provides experience, compassion, and a caring touch.
We were delighted to receive this note from a family member, July 2022: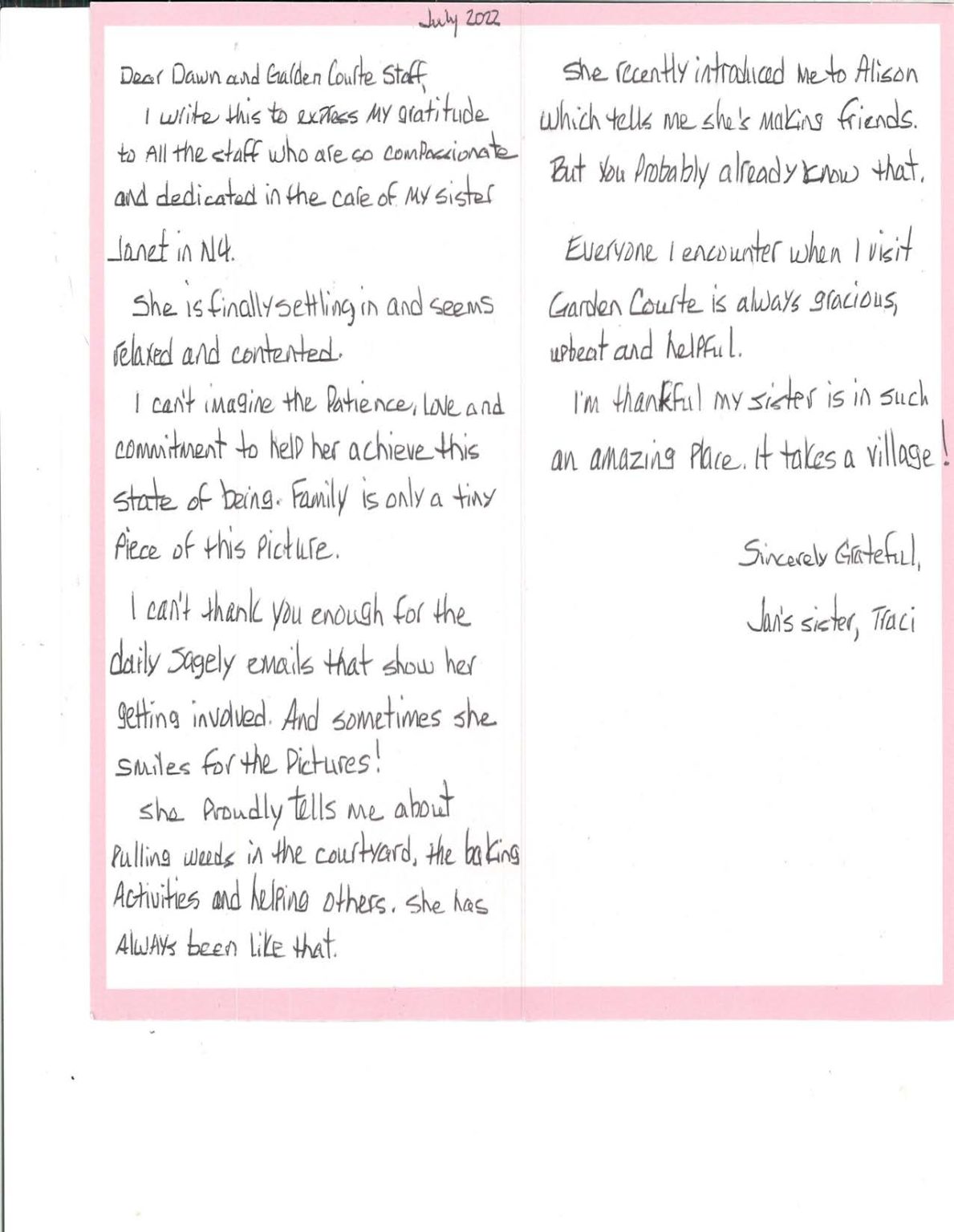 More About Garden Courte
Before we provide any services, we ask:
What is best for your loved one? What is best for your family? How can we improve everyone's daily outcome? What type of community best suits your loved one?
In your search for answers and the ideal care setting, we suggest looking beyond the manicured lawns and tasteful décor (although those, too, can help make a decision). Seek out a sincere and caring space that offers a complete living experience. Find a community that goes beyond addressing solely one's health concerns; find a space that commits to the whole person and their wellness. You will find that these ideals are what the Garden Courte community stands for. It is who we are and it is what we love to do.
---
Our goal is to help families avoid problems before they even arise. The author Cindy McDonald once wrote,
"Aging is not an option, not for anyone. It is how gracefully we handle the process, and how lucky we are, as the process handles us."
---
Here at Garden Courte Memory Care, we want to create an option for seniors and their families that feels good. When aging requires greater medical attention and care, things start feeling challenging. Feelings of helplessness, guilt, fear or worry may enter the picture when you or your loved one's needs cannot be fully met at home. Fortunately, the experience and expertise we provide at Garden Courte are offered with an abundance of understanding.
Let us help you or your loved one regain control and dignity. Our compassionate care team offers an excellent daily experience that can greatly relieve the impact of aging.
We pride ourselves on the service and commitment that we provide to the seniors of Thurston County (and beyond). We are proud to call each other family here at Garden Courte Memory Care. We look forward to meeting you!